Hello everyone,
This is a follow-up to another post of mine, to wit:
I've been noticing that running restic backup from exactly the same local dirtree to exactly the same repo is taking longer every day; here's a graph of the speed (local dirtree size in bytes, divided by the time it took for the backup to run) of the last 9 executions: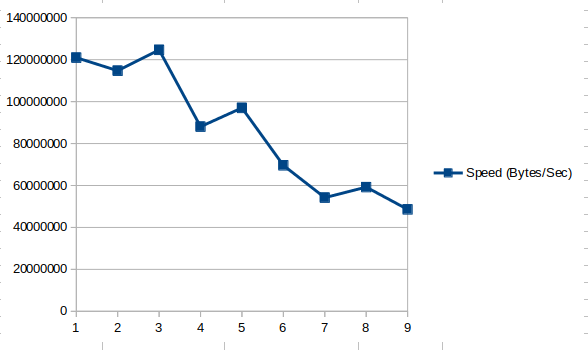 I can see speed going down so much that soon enough it will be taking longer than 24 hours to do a single daily backup – which is obviously not acceptable.
The repository currently has 54 snapshots, and as I'm not currently running neither restic forget nor restic prune, it increases daily.
Question #1: Would running restic forget and restic prune periodically, say every week, and keeping just 30 backups or so, be enough to bring down and hold down this trend?
Question #2: I understand nothing can be done with the repo while restic prune is running, so I need it to finish fast. As my repo resides in Google Drive, I'm planning on starting a "n1-standard-8" (8 VCPUs and 30GB RAM) Google Compute Engine instance and run restic prune there in order to have as much high-bandwidth and low-latency as possible. Has anyone done that already? Can you share your experience, the machine type you employed, whether a preemptible instance worked for you, etc?
Question #3: I found #1348, mentioning @cbane's prune-speedup restic tree.. Are there any other mods to restic I should consider using in order to speed my upcoming restic prune?
Cheers,
– Durval.