So I had freshly done a prune and a check --read-data with no errors. Decided to take a fresh backup last night. During the backup, a few little rclone connection errors would pop up. Maybe once an hour or so. Unfortunately I didn't get to screenshot the connection errors, but after every "retry" rclone issued while restic was backing up, there was no ultimate "failure". It just said "retry after ~500ms" and then it would continue. It would retry just once, and seemingly work. After some time, it might hiccup again, with a quick retry, then keep going like it was okay.
HOWEVER, it was indeed messing things up. I was curious and decided to do a quick check, just to be safe. Here's what I got, almost immediately: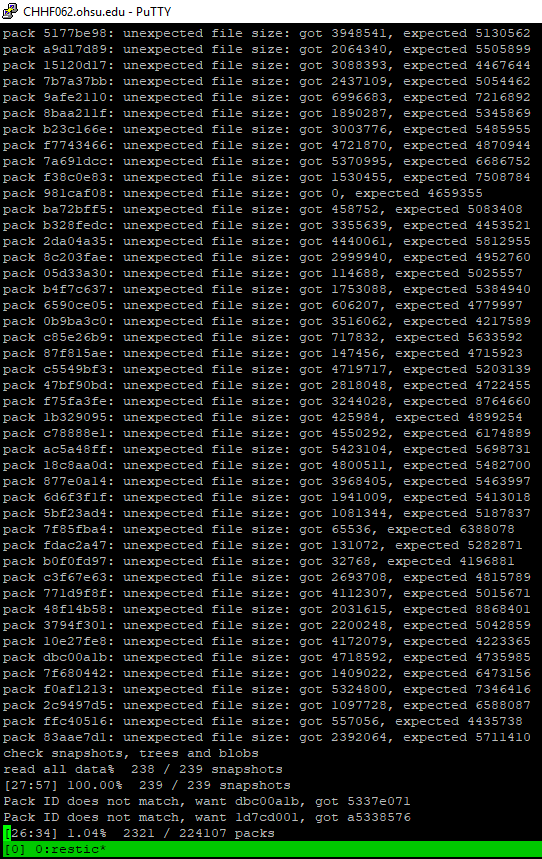 It seems as though every time restic+rclone threw a "retry" it was saving an incomplete pack. The backup ran late into the night, and unfortunately I forgot it was a script and would exit when finished (clearing the log). I didn't get a screenshot. But I meticulously checked what was already on the screen and it would be a different file each time, and each error would only output one message, with a retry of less than 1s, and then immediately pick up and keep going.
So to try to fix the problem, I did a rebuild-index - and let me just say WOW, that is SO much faster than it used to be, I love you guys haha. I am now backing up again, to fill in any missing blobs, will do a check --read-data, and then find anything missing and forget it, with one final check --read-data just to be safe.
That said, I'm really concerned about the fragility of the backup process, if a few connection retries suddenly have incomplete packs stored. I can't guarantee it, but I feel like this is a restic+rclone thing, not restic by itself
Here's my backup so far, filling in the missing information. I will say the messages it prints are a little… scrambled. Thought I'd point that out too. For instance "storing the file againcations/Install macOS Big Sur.app/Contents/SharedSupport/SharedSupport.dmg"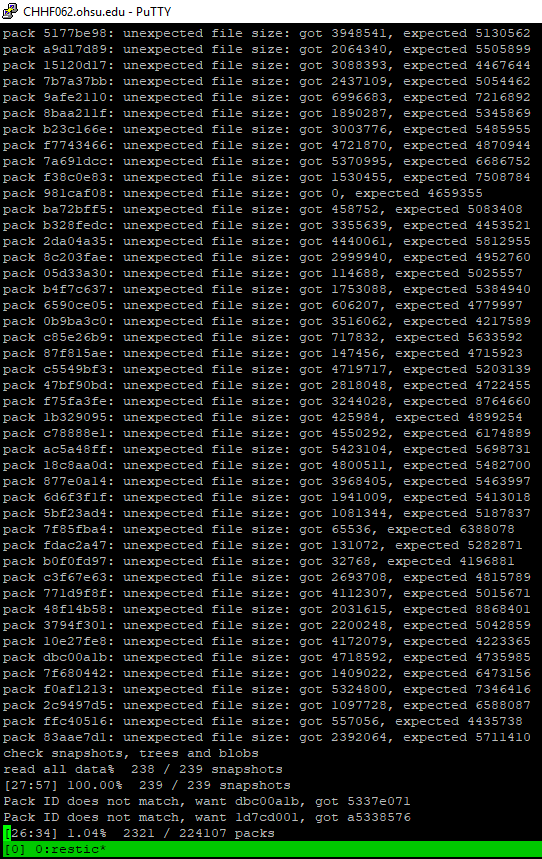 These are files very early on in the backup process, which I remember seeing a quick "retry" for while I was had eyes on the backup. Just a simple one-time retry. But apparently it was storing partial packs.
Anyway, I hope this makes sense to someone and can help find a potential bug! I'm wondering if this happens just with rclone as a backend. Or I'm wondering if pCloud doesn't "resume" a pack properly. That said, I've never had these issues syncing up to 800GB to pCloud with "rclone sync" (not using Restic). I might get a hiccup or two, but if I test the file integrity later, everything is safe (checksums). This includes syncing a large restic repository. I've done a restic check --read-data and it checks out. It seems like it's the specific combo of restic using rclone as a backend, from what I can tell.
I should mention one modification I've made is to use transfers=2 and checkers=2 for rclone in my scripts. Seems to cut down on the amount of these errors, but they still happen after about an hour or so. Only one at a time when it happens, though. Not a whole screenful. Just a "hiccup".