Hello.
We are using restic to backup a very large amount of data on a remote minio cluster using s3 protocol
We currently have:
134 TB of data spread over 26,150 Buckets.
The problem comes when we try to purge our repositories as t takes a huge amount of time to perform this operation.
To make an example I attach a screenshot of a running prune operation on a bucket: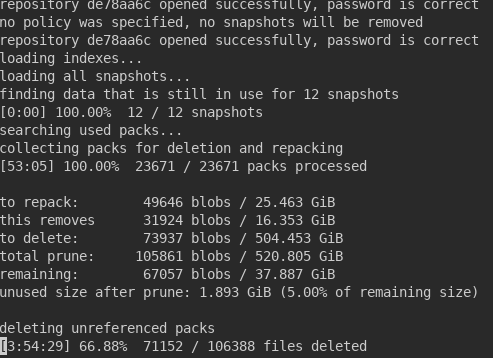 As you can see, this prune operation is going to take about 8 hours.
We are already using the last restic version:
# restic version
restic 0.12.1 compiled with go1.16.12 on linux/amd64
# rpm -qa | grep restic
restic-0.12.1-3.el8.x86_64or paste code here

From our analysis, the bottleneck is not the network.
Can you help us to understand which could be the reason of such behavior? Or is it somehow expected according to how restic works?
Thanks a lot
Riccardo