I am using restic to backup ~2TB to wasabi. It works great. I usually do random checks. And today I realised that restic was not backing up my private key in .ssh directory but actually was backing up the rest of the files in it.
The obvious thing to look at is the permission of the files in that directory. My user account has sudo privilages and even without sudo privilages, I can view my private key. This is the key that was never backed up. And I did not even a see an error in the restic err log saying that there was a difficulty reading or backing up this file. This would have been a serious problem had I not detected this. So, I want to get to the bottom of this and understand the reason for this behavior.
The file permissions on my local PC are listed below. Restic backup is completed by a cronjob. Daily.

Specifically, id_rsa was skipped, id_rsa_pub was skipped too. With no logs of erros for either of them.
The rest of files in this directory were well backed up over the years.
UPDATE:
Restic was indeed backing that private key, but into a different folder that is different from the original folder structure on my original PC. So, why would Restic chose to create a different folder inside .ssh dir? The private keys have gone inside .sshO dir. I do not recall creating this dir and it is present in the latest repository. But in my PC, the directory ".ssh/.sshO" does not exist.
UPDATE SOLVED
This is weird. By simply adding '/' to the backup directory path, suddenly the .ssh dir is backed up correctly as I would have expected.
Below is my list of directory list.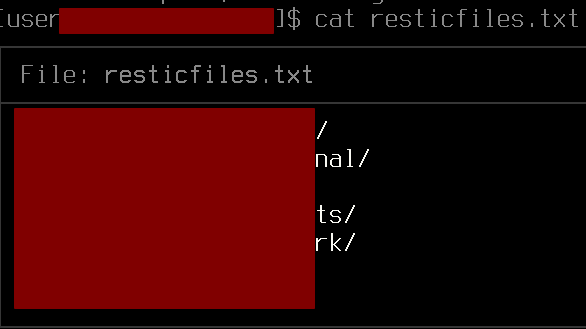 This behavior is new to me. Can anyone explain why this happens?