I just did my first incremental restic backup to an existing repository. A few days ago I did the first full backup to this same repository. In the meantime I had changed about 300 files. Why zero changed?
See pic. Why does it say "No parent snapshot found"? Why did it take only 31min to create 1.1TB worth of files?!
I have a feeling this incremental backup didn't work, but the Restic report is not clear. Anyone know what's going on here?
.
.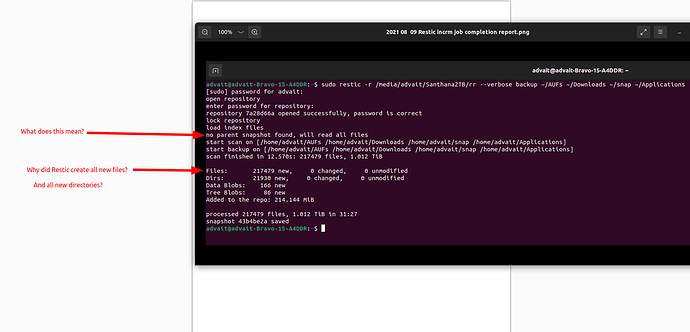 .
.
Here's the terminal record from the initial full backup: (43 hours to do)
advait@advait-Bravo-15-A4DDR:/media/advait/Santhana2TB$ sudo restic init --repo /media/advait/Santhana2TB/rr
enter password for new repository: 
enter password again: 
created restic repository 7a28d66a1d at /media/advait/Santhana2TB/rr

Please note that knowledge of your password is required to access
the repository. Losing your password means that your data is
irrecoverably lost.
advait@advait-Bravo-15-A4DDR:/media/advait/Santhana2TB$ 
sudo restic -r /media/advait/Santhana2TB/rr --verbose backup ~/AUFs ~/Downloads ~/VirtualBoxVMs ~/snap
open repository
enter password for repository: 
repository 7a28d66a opened successfully, password is correct
created new cache in /root/.cache/restic
lock repository
load index files
start scan on [/home/advait/AUFs /home/advait/Downloads /home/advait/VirtualBoxVMs /home/advait/snap]
start backup on [/home/advait/AUFs /home/advait/Downloads /home/advait/VirtualBoxVMs /home/advait/snap]
scan finished in 5.346s: 217439 files, 1.012 TiB

Files:       217443 new,     0 changed,     0 unmodified
Dirs:        21925 new,     0 changed,     0 unmodified
Data Blobs:  927263 new
Tree Blobs:  21427 new
Added to the repo: 933.059 GiB

processed 217443 files, 1.012 TiB in 43:17:50
snapshot cc72d13f saved
advait@advait-Bravo-15-A4DDR:/media/advait/Santhana2TB$ l