I was doing some benchmarks yesterday to compare Borg v1 and v2, as well as test some network optimizations that our users sometimes ask about. Also included Restic, since we already have a good number of users choosing it on BorgBase.com. (We support both, so I'm not biased either way.)
This is also not meant to bash either tool, but to show where one may learn from the other. There could also be an issue with my test, so I'm also looking for feedback there.
So here the summarized data. Measurements are taken by GNU Time and the full results, as well as the test data and script are all on Github to reproduce my tests.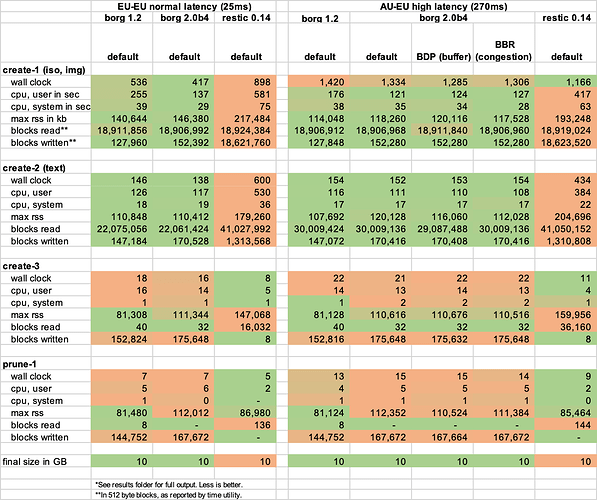 What I see in relation to Restic:
Uses 2x the memory Borg needs. This is known and I expected it.
Did better over a high-latency connection, when data didn't compress well.
Did much worse, when data compressed well. Also seems to read the data 2x. This points to some issue with the new compression feature.
Was faster when no new data was added or to prune old snapshots.
When new data was added, Restic seems to write a lot more data then Borg. Could be some temporary file?
I should mention that I did my tests on VPS with 1 CPU core and 1 GB of RAM. Restic may do better with more cores.