Hey,
I'd like to post something personal today, to give you a bit of background.
restic becomes more popular every day, so more and more people contribute code and open issues. This is great, I love that something which started as my little side project (which I nervously announced in a lightning talk at FOSDEM) helps many people!
I'm trying to answer all issues and review all code, but that may take me some time. I'm doing restic for fun in my spare time, and I have a family which deserves my attention.
So, on a good day I have an hour or two in the evening to look at pull requests and issues. On another week I don't have any time for restic at all.
Most evenings, my GitHub notification page looks roughly like this: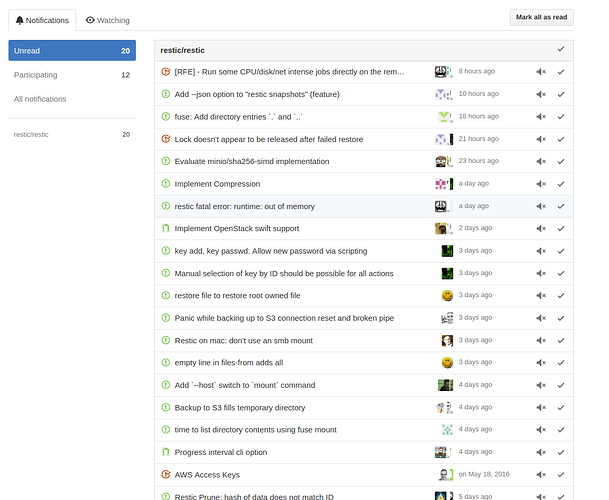 And when I'm done reading through the issues, oftentimes the hour that I had is over. In the evening on the next day, the notifications are there again, waiting for me. It never stops.

I'm aware that trying to keep up with all the issues is not possible, so sometimes I consciously decide not to look at the issue notification list at all, but spend an hour just with coding. In the long run this keeps me happy, which is very important for the project as a whole.
I'm very grateful for all people helping out with issue triage and requesting more information from issue submitters, that helps a lot! Thank you!
Please have patience when contributing code, it may take a bit longer until I find the time to try it out!